Harvey County has a long history and strong base of farming and agricultural operations.
Existing base of agricultural operations
According to the U.S. Census of Agriculture, the total market value of the County's agricultural products sold in 2012 was $162 million
Availability of agricultural products for food processing
Harvey ranks among the top 10 counties in Kansas in terms of the value of agricultural sales for several commodity groups, including cotton, vegetables, poultry, and horses.
In this Sector:
---
---
Access to interstate highway and rail system
General aviation airport capable of handling corporate aircraft
Newton City/County Airport
7,000-foot runway
hundreds of acres of developable land
already established as a reliever airport to Wichita by the FAA
---
Labor
Availability of skilled production workers>The availability of skilled production workers is a strong asset for Harvey County. With a Location Quotient (LQ) of 2.27 and over 2,200 production occupations, the Manufacturing sector is a strong sector for Harvey County.
[table showing production labor in labor shed]
Reasonable availability of managerial personnel
LQ of 0.91 and 814 workers
Low cost of labor
2016 Estimated Average Annual Wage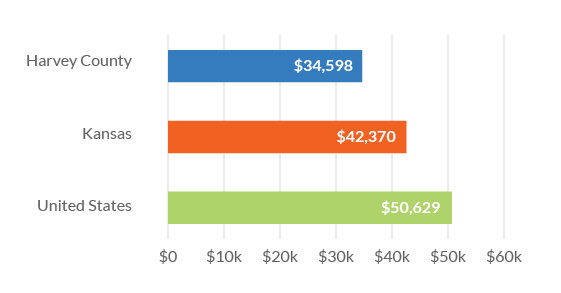 Source: EMSI 2016, Garner Economics
Low rate of unionization in local labor force
Unionization, 2016

| | Public | Private | Total |
| --- | --- | --- | --- |
| Wichita MSA | 28.9% | 4.7% | 7.6% |
| Kansas | 22.8% | 5.9% | 8.6% |
| United States | 34.4% | 6.4% | 10.7% |
Source: © 2015 by Barry T. Hirsch and David A. Macpherson, Garner Economics
---
An existing local pool of high‐demand occupations
Agribusiness & Agricultural Manufacturing and Food & Beverage Processing:
Harvey County Labor Shed* Existing Pool of High‐Demand Occupations–2016
| Occupation | Employed in Labor Shed |
| --- | --- |
| Laborers and Material Movers, Hand | 5,328 |
| General and Operations Managers | 4,122 |
| Team Assemblers | 3,367 |
| Inspectors, Testers, Sorters, Samplers, and Weighers | 2,354 |
| First‐Line Supervisors of Production and Operating Workers | 1,973 |
| Machinists | 1,725 |
| Welders, Cutters, Solderers, and Brazers | 1,548 |
| Food Processing Workers | 1,400 |
| Machine Tool Cutting Setters, Operators, and Tenders, Metal and Plastic | 1,289 |
| Assemblers and Fabricators, All Other | 1,144 |
| Industrial Truck and Tractor Operators | 988 |
| Farmers, Ranchers, and Other Agricultural Managers | 925 |
| Industrial Engineers, Including Health and Safety | 897 |
| Farmworkers and Laborers, Crop, Nursery, and Greenhouse | 635 |
| Layout Workers, Metal and Plastic | 605 |
| Industrial Production Managers | 513 |
| Woodworking Machine Setters, Operators, and Tenders | 417 |
| Agricultural Equipment Operators | 193 |
*Labor shed is defined as 45‐minute drive time from the center of Newton.
Source: EMSI, Garner Economics
---
Availability of post‐secondary vocational training
Within 1/2 hour of major university/college(s)
Bethel College
Hesston College
Wichita State University, including its College of Engineering program (25 minutes away)
Hutchinson Community College branch
Availability of on‐the‐job training assistance
Kansas Local Area 1 Workforce Investment Board
Availability of regional engineering program/degree
Wichita State University, College of Engineering (25 miles from Newton)
---
Resources
Availability and cost of water and sewer infrastructure (P)
Availability of fully served and marketable industrial sites (P)
Availability of low‐interest loans for small businesses (P)
Availability of labor training incentives (P)
Average target subsector national earnings of $37,407 (P)
---
Quality of Place
availability of moderate‐cost housing
low cost of living: Cost of living index is 87, lower than the national average of 100. (Areavibes.com, 2017),
low crime rate
availability of medical facilities
attractive appearance of communities